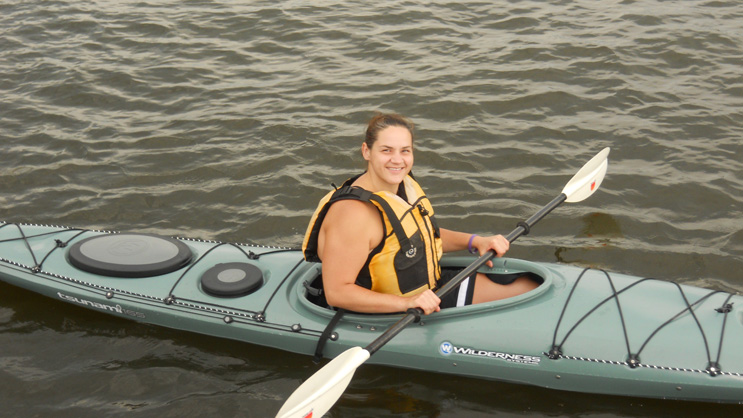 In August 2009, after six years of misdiagnosis, I was diagnosed with a precancerous cyst on the head of my pancreas. Despite the statistics and fear that surrounds such a diagnosis, I was comforted by the knowledge that so many friends and family members were there to support me along the way. With their ongoing support and encouragement, I was able to establish the The Pancreatic Endowment for Achieving Control and Education (P.E.A.C.E) at The Pancreas Center at Columbia University Medical Center. The Fund aims to alleviate some of the financial burden for other patients who are hospitalized for long-term treatment of pancreatic cancer and related diseases. Thus, the Fund creates a similar support system for those who cannot afford it.
Today, I am writing to let you know about my next challenge and hope you will consider joining me on this adventure. This summer, I have committed myself to kayak from Rhinecliff, New York to the George Washington Bridge in Manhattan-an 85 mile journey! My training for this requires dedication at the gym six days a week so that I can paddle approximately 30 miles per day over three days. Not only will I need to get in strong physical shape to complete each days distance, but other obstacles may present themselves that make the physical fitness so imperative, including: battling varying tides, summer heat and humidity, rip currents, river traffic and crossing the river at various points. All in all, I am extremely determined to see this journey through, and to end at the exact same point on the river that I would look out upon while I recovered from surgery at the hospital.
This year, I am hoping that you can join my efforts and help me in building awareness of pancreatic cancer, while also supporting other patients and their families through what might be one of the darkest times they may ever endure. Please consider a donation toward my goal of $10,000 dollars for the Fund, so that together we can give someone else some 'PEACE of mind'.
If you are interested in making a 100% tax deductible contribution you may do so by sending a check made out to Columbia University, and writing 'The P.E.A.C.E Fund' on the memo line, to the following address:
Marilyn Mullins, Director of Development
Columbia University Medical Center
100 Haven Avenue, Suite 29D
New York, NY 10032
For additional information about my journey, or The P.E.A.C.E Fund, please contact me at courage_and_strength@yahoo.com.
With my deepest gratitude,
Alyson Peluso