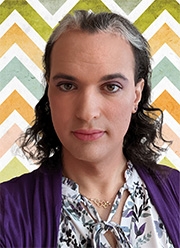 Four children in New York will get to grow up with their mother, thanks to a donor halfway across the nation.
This family's story would have had a very different ending without the compassion of an altruistic liver donor from Wisconsin, the help of a matchmaker dedicated to finding organ donors for recipients in need, and the expertise of the living donor liver transplant team at NYP/Columbia. Yitzchok Pinkesz (the donor) is now known as Emily Pinkesz and where they were previously referred to as He/Him, they are now referred to as She/Her.
Like many older teens, 17-year-old Emily Pinkesz began questioning the traditions of her youth. In her case, that included tenets held closely by her ultra-orthodox Jewish community. She had learned about the life-saving benefits of organ transplantation, and she grew increasingly disturbed that her community forbade organ donation after death (cadaveric or deceased-donor transplantation). Having concluded there was no basis for such prohibition in traditional Jewish law, she embarked on a one-woman campaign to change hearts and minds on behalf of the patients who desperately needed organ transplants. Although her efforts did not impact the wider community as she'd hoped, they did lead her to meet a very special kind of matchmaker – Chaya Lipschutz, who explained that she could donate an organ – at that time, only a kidney — while alive. Deceased-donor transplantation may have been prohibited in her ultra-orthodox community,* but donating while alive was accepted, so in 2010 Emily set out to offer what she could: a healthy kidney.
On her side, Chaya had responded to a newspaper ad and donated a kidney in 2005. That inspired a determination to save even more lives, and she began recruiting kidney donors for patients in the US and Israel through Jewish Yahoo groups, Craiglist posts, Facebook, and even handmade flyers she posted around the neighborhood. Thrilled to have an opportunity to be of service, 20-year-old Emily offered a kidney to a patient on Chaya's list in 2010. However upon evaluation at another NY hospital, she was found ineligible due to a 'pelvic kidney,' a harmless condition in which her kidney was located lower in the body than the normal position. Disappointed at being turned down as a donor, Emily moved on.
March, 2015: By this time, Chaya's grassroots efforts had successfully matched dozens of recipients with kidney donors. Now someone on her list, a 43-year-old mother of four in New York, needed a liver transplant. Until the fall of 2014, New York State regulations did not allow people to donate portions of their liver to a stranger (called altruistic donation) as they would allow for kidneys, and Chaya had never focused her efforts on finding liver donors. But this restriction was removed in 2014, and Chaya learned that NewYork-Presbyterian/Columbia would now accept altruistic liver donors (at the time of press, most other hospitals still do not). Chaya remembered young Emily, who was now in Wisconsin with her family, working as a software developer. She called. Would Emily be interested?
Emily knew she wanted to help, and with her wife's support, she said yes. Not only was she willing and able to travel to New York for the procedure, but her employer gave her a month off with full pay so she need not worry about lost wages. Dr. Benjamin Samstein performed the procedure to remove about a quarter of Emily's liver at NewYork-Presbyterian/Columbia on a Tuesday in July, 2015. Both her procedure and the transplant went smoothly, and Emily had few complaints about her recovery. "The worst part was the catheter I had to have for two days. That's a pretty minor thing," she says. By Saturday, she was showering and dressing on her own, and she was discharged Sunday. "I had to remain in New York for a month because Columbia required that I remain nearby for monitoring, but I was ready to go back to work two weeks after surgery," says Emily.
While her decision to give part of her liver to a complete stranger made perfect sense to Emily, she is a step ahead of many. "For some time, we have been seeing altruistic kidney donors give kidneys to anonymous recipients," says Dr. Samstein. Such donations have allowed numerous 'swaps' in which an altruistic donor saves a stranger's life, or even facilitates a chain of donations that allow numerous patients to receive kidney transplants. "This is the first case we are aware of in which someone has flown halfway across the country and donated a portion of her liver to a complete stranger."
For Emily, the decision to donate was simple. "I have two children. If I had end-stage organ disease, I could not bear to tell my children that I am dying, and subject them to the process of my dying over the next year. If the pain of two children suffering is too great, what of four?"
"There was a risk with the surgery," she continues, "but I am young and healthy, and that risk was very minimal. I believe that if anyone is considering a kidney donation, there is little reason to not do it. You can be up and running in just a few days. With liver donation, the bigger question is financial – can you afford to go without work for a few weeks?" As for donating organs upon death, her view is unequivocal: "Organ donation is something every one of us can do. Burying those organs when we die is selfish and wasteful."
Emily's example has since inspired several friends to register as organ donors and has led one to offer to donate a kidney at the University of Wisconsin hospital. The recipient of Emily's liver, who would have soon died without a new liver, is recovering well and can expect a bright future with her family.
*Many orthodox Jews, including rabbis, do support organ donation. The Halachic Organ Donor Society is dedicated to increasing organ donation by Jews to the general population.
NewYork-Presbyterian is the largest living donor program in New York, and has performed more than 100 living donor transplants since 2010. Learn more at livermd.org.