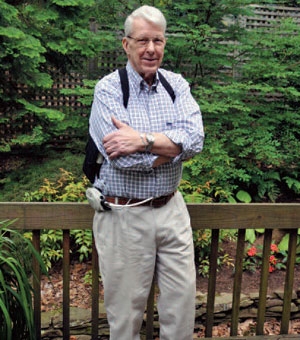 A pilot for Pan AM and United Airlines, Richard Stowe took a leave of absence in 1999 to have surgery on his knee. While he was recovering, his physicians discovered an arrhythmia and later, performed an ablation procedure to correct the arrhythmia.
In 2000, Richard had bypass surgery followed by a mitral valve repair. Months later he required an ICD–an implantable cardioverter defibrillator–to regulate his heartbeat.
As the years went by, his heart kept getting larger and in 2006, his cardiologist referred him to NewYork-Presbyterian/Columbia, where his cardiologist explained that he would benefit from an LVAD.
Richard's response? "I thought a device like that would be as big as an oven or a refrigerator. I didn't want to be plugged into an appliance all day, and just sit around reading magazines."
Once his doctor showed him a picture of the HeartMate II and explained the kind of mobility he would have with this device, Richard was convinced.
Dr. Yoshifumi Naka implantated the HeartMate as part of a clinical trial and in the days right after the surgery, Richard was upbeat, thinking about his next project: restoring an antique plane.
Once he was discharged, Richard wasn't the least bit intimidated by the new device. "I really didn't think about the fact that I was wearing it." he said. "But I was curious about its design. I wanted to know how much voltage was in the batteries, how the pump worked, if I could just plug it into the car and go."
Six months after surgery, Richard was driving and doing ordinary chores. A year and a half later, he working on his plane and cruising the Long Island Sound in a powerboat with his wife.
He admits that some days he can overdo it. Though he's just passed his 80th birthday, he can be a little too active—I really have to watch it. After Hurricane Irene, I used a chainsaw to clean up the branches torn from a big oak. Last week I was moving some siding and hit my driveline but my team at NYP got that sorted out."
With his hearty voice and ebullient personality, Richard has become a poster child for the LVAD, speaking to reporters from ABC, NBC, and CBS-TV.
On an average day, Richard makes breakfast for his wife, goes to the marina to check on the boat, or to the hardware store to stock up for a do-it-yourself project. At the moment, he's trying to build a control panel and a platform on his boat, so he can drop anchor remotely.
"I wouldn't be up to any of this," he says," without my cardiologist, who explained that what I had to do to carry on in life, and without Dr. Naka, the top LVAD surgeon in the world. The dedicated LVAD team at NewYork-Presbyterian also made my recovery a lot easier."