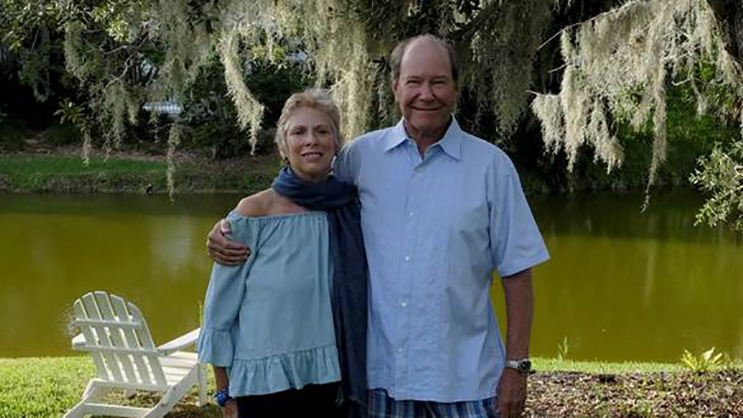 Life can be snatched from you in an instant. A more diabolical way is to be told by your doctor that you have cancer. Is it just as much a life-crushing moment if you had an idea something was wrong and your doctor's confirmation somehow gave it bonafide legitimacy?
I recently passed my 12th year as a pancreatic cancer survivor. During my struggle I tried to balance hope, and optimism against candor. It took the proverbial village of world class physicians, friends, and family for me to be where I am today. I credit a sense of listening to my body and acting quickly as one possible reason I caught this in time.
My wife, Lynn and I were living in New York. During June, 2005 I was not feeling well, but could not ascertain why. One year before I had three types of lime disease. Strangely my symptoms felt much the same. I had no appetite, and was very tired. My GP had some blood tests run which showed greatly elevated liver enzymes. My Gastroenterologist was concerned enough to refer me to Dr. Gregory Haber at Lennox Hill. In fairly quick succession I had a CT scan, an ERCP and an endoscopy which resulted in the most dreaded words I'd heard ― "You are a candidate for a Whipple". From that time on I fixated on where to go next, what PC was, survival rates, and self isolationism. Dr. Haber suggested I contact the offices of Dr. Chabot. That's how I found the Pancreas Center.
My wife and I met Dr. Chabot on July 11th and discussed my case. He instilled great confidence in us. He routinely performed Whipples, and this was important to me. We put our trust in Dr. Chabot. We decided he was going to be my surgeon. Time was of critical importance to us. I was stage 2b. On July 20th with the expertise of a great surgical team, I had my Whipple. I wanted to beat this and was so scared when I considered the statistics. My staging gave me some hope. By the end of August I was on a course of GTX chemo (developed by Dr. Robert Fine), under the supervision of Dr. Abby Siegel. "Abby" was so considerate and giving of her time with each and every visit. What I didn't know however was that despite my staging, and operation, the team did not believe I would survive long. My wife only told me this later. Throughout my ordeal she was very positive, and held back her fears from me. I was not going to give up after catching this relatively early. It was a roller coaster battle to maintain a positive attitude but my support groups, medical team and my willingness to fight would win the day. Along this road I met a superb GI doc, and then Director of Endoscopy at Columbia, the funny and caring Dr. Peter Stevens. Even while he was dealing with his own maladies, that would ultimately take his life he helped me. It broke my heart when he passed. I also regularly met with Fran Heller, a NY Presbyterian Senior Social Worker in Palliative Care. She provided another rung of support that I was grateful for. Subsequent scans around the Christmas holidays in 2006 revealed what appeared to be a possible metastases to my liver. A followup biopsy led me back into the hospital. My positivity ebbed away and I was prepared to pass. Just as quickly I was jerked back to reality ― they could not access the location of the small masses. At this point we tried to enroll in a clinical trial at Johns Hopkins. They told us after receiving all my records that I would not qualify for the trial because the tumors were too small; I'd have to wait until they got larger. What did I want? Would I find someone who could guarantee me life without remission, a full cure, or living to a ripe old age? Everyone was positive but noncommittal. 
One day we found ourselves in Barnes & Noble and serendipitously discovered we were in a section of the bookstore which dealt with holistic and homeopathic treatments for disease. The end result of this was that after purchasing many books on these subjects, we cross-referenced their suggestions, and created our own regimen to live by. We tweaked our diet (no red meat, no sugar, etc.), cleansed our pantry and environment (went completely organic in everything from personal hygiene to cooking, cleaning and household supplies).  Over time the masses in my liver began to shrink. There is no proof that our regimen is responsible, but I have been cancer free for twelve years. I also began an integrative medicine regimen of herbal supplements to boost my immune systems. Since then I haven't looked back.
Fast forward to 2017. I have my scans every year. My optimism momentarily ebbs before my scans, and I struggle with some negative thoughts. This is my new "normal". I continue to follow this regimen. I keep the Chabot Team updated on my progress, and thank the Team for giving me a second chance at life.