About EA  |  Our Team  |  REACH Clinic  |  Contact  |  Resources  |  Kids Corner  |  Donate
Esophageal atresia/tracheoesophageal fistula (EA/TEF) is a rare birth defect occurring in 1 in 2,500-4,000 babies where the esophagus fails to properly connect the mouth to the stomach. Babies with this condition must undergo surgical repair, usually shortly after birth. Without treatment, feeding may lead to milk and stomach acid getting into the airway (the trachea and lungs). This can affect the baby's ability to breathe or lead to infections like pneumonia.
Our team at Columbia University Irving Medical Center/NewYork-Presbyterian Morgan Stanley Children's Hospital offers comprehensive care to children with EA/TEF.
This process may begin during pregnancy, with prenatal counseling if the diagnosis can be made during an ultrasound.
Patients born with EA/TEF frequently require immediate surgical intervention. Our surgeons offer minimally invasive surgical techniques whenever possible.
Many children are born with other associated anomalies and our expert team offers multidisciplinary approaches to ensure delivery of the best possible care and outcome.
As children get older, we take active steps to seamlessly transition them from pediatric to adult care
We are dedicated to improving care for children with EA/TEF through an evidence-based approach and offer many novel diagnostic and therapeutic options.
Please investigate our resources, including our specialty clinic, Researching Esophageal Atresia for Children's Health (REACH). Make an appointment or learn more about how we can help by calling (212) 342-8585.
 
---
Register Now!
Our virtual 2023 Updates on EA/TEF Symposium is happening November 14th, 2023, from 9am to 4pm ET.
Learn from multidisciplinary EA/TEF expert faculty and guest speakers, including specialists in pulmonology, otolaryngology, speech language pathology, gastroenterology, urology, clinical genetics, and pediatric surgery.
This annual event is open to medical professionals, educators, patients, and caregivers.
---
About Esophageal Atresia/Tracheoesophageal Fistula (EA/TEF) 
Esophageal atresia (EA) is a rare congenital condition (present at birth) in which the esophagus fails to connect to the stomach as it should and ends in a blind pouch instead. Some babies have a hole or connection between the trachea and esophagus, called a trachehoesophageal fistula, or TEF. These conditions can occur separately or together and may vary in severity, but babies with EA, TEF, or EA-TEF must undergo surgical repair soon after birth. Without a definitive repair, attempting to eat could lead to aspiration, a condition where formula or food escapes into the respiratory tree, causing respiratory illnesses.
---
For a kid's perspective on EA/TEF, check out Olivia's Corner.
---
Types of Esophageal Atresia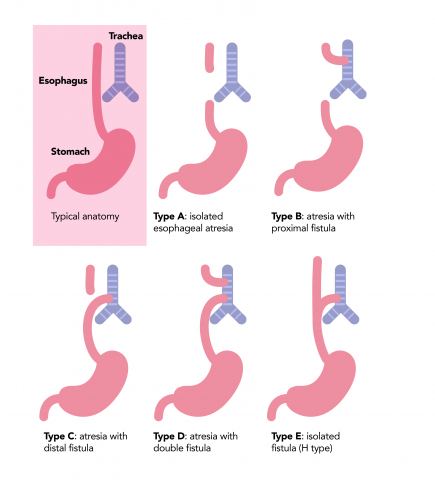 Types of EA/TEF based on Gross classification. The pink represents the esophagus (food tube) between the mouth and stomach. The blue structure is the trachea, or airway. The most common type of EA/TEF is type C (85%) followed by types A and E with which occur at about the same frequency (5–7%). Figure based on Singh et al. Surveillance in Patients with Esophageal Atresia. Curr Gastroenterol Rep (2017) 19: 4.
Causes
Causes of esophageal atresia are not fully understood. Some children are born with EA/TEF as part of a larger syndrome or associated anomalies of the heart, urinary or digestive tract, while others have EA/TEF without these additional problems. 
Signs and Symptoms
Babies born with esophageal atresia may have symptoms including: 
Cyanosis – bluish tint to the skin – during attempted feeding 
Coughing and choking with attempted feeding 
Drooling 
Poor feeding  
Diagnosis 
Suspected esophageal atresia may be diagnosed through several steps.
During pregnancy, excess amniotic fluid or small stomach on an ultrasound may signal EA/TEF. After birth, EA/TEF may be suspected if the baby chokes, coughs, and turns blue when attempting to feed. To diagnose EA/TEF, the baby's physician will attempt to pass a feeding tube through the baby's mouth or nose. X-ray imaging will show the feeding tube coiled in the upper esophagus, indicating EA/TEF.
Treatment
Babies with EA/TEF must undergo surgical repair, often very soon after birth. Without treatment, attempting to eat could cause babies to aspirate milk and stomach contents into the trachea and lungs. This can cause symptoms such as coughing and choking, among others, and can also lead to lung infection. Surgery is successful in the vast majority of children.
The Researching Esophageal Atresia for Children's Health (REACH) Clinic uses a minimally invasive surgical approach for EA repair, using three small incisions in the chest, whenever possible. After surgery, the multidisciplinary team provides long-term follow-up in order to ensure optimal care as children mature into adulthood. For example, care is provided to prevent and treat acid reflux, assist with swallowing difficulties, and treat possible strictures (narrowing) all of which can affect children after EA/TEF surgery. Care is also coordinated for associated birth defects.
As They Grow Up
As children with EA/TEF grow up, they often face the challenge of finding adult medical specialists with the proper experience managing their condition. At Columbia, the REACH team works closely with Dr. David Katzka and his colleagues in the division of Gastroenterology to be sure that the care we provide to our pediatric patients can transition smoothly as they grow into adults. This transition program allows our REACH Clinic patients to see age-appropriate specialist at all phases of their lives, with uninterrupted access to their medical record and clear communication among all members of their care team as they mature.
Associated Anomalies/Birth Defects
The collaborative format of the EA program also addresses an important need for patients and their families: the need to see multiple specialists for complicated, multi-system birth defects in the spectrum known as VACTERL (Vertebral anomalies, Anal atresia, Cardiac defects, Tracheoesophageal fistula and/or Esophageal atresia, Renal & Radial anomalies and Limb defects).
EA/TEF commonly appears with the following anomalies/ birth defects:
Heart defects such as ventricular septal defects or Tetralogy of Fallot 
Defects with the gastrointestinal (digestive) system, like imperforate anus (incomplete or closed anal opening) or intestinal atresia (incomplete bowel formation)
Defects in the urogenital tract, which can affect the production or release of urine
Neurological and musculoskeletal defects
Elsewhere, parents must bring their children to individual specialists for care of these problems, but the collaborative team at Columbia/NYP Morgan Stanley Children's Hospital includes a range of experts so that a child may see multiple specialists in a single visit, rather than making multiple separate trips.
---
Our Team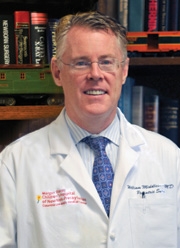 William Middlesworth, MD
Surgical Director of the Esophageal Atresia Program
Image: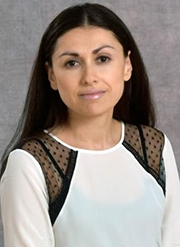 Julie Khlevner, MD
Medical Director of the Esophageal Atresia Program
Clinical Team
Christina Carpenter, MD
Urology
Alejandro Daniel Iglesias, MD
Clinical Genetics and Genomics
Sara Donnelly, MSN, CPNP
Pediatric Nurse Practitioner
Anne M. Ferris, MBBS
Pediatric Cardiology
Eli Grunstein, MD
Otolaryngology
Christine Haro, MS, RD, CDN, CNSC, CSP
Pediatric Clinical Dietician
Minyoung Jang, MD
Otolaryngology
Meyer Kattan, MD
Pediatric Pulmonology
Carin I. Lamm, MD
Pediatric Pulmonology
Elle Quinn, MS, CCC-SLP
Speech-Language Pathology
Michael G. Vitale, MD, MPH
Orthopedic Surgery
Research Team
Christian Welch
Clinical Research Assistant REACH Clinic
Priyanka Ahimaz, MS, CGC
Clinical Research Coordinator for Congenital Anomalies Research Exploration (CARE)
Genetic Counselor
Make an appointment with our team by calling (212) 342-8585.
---
The REACH Clinic at Columbia
The Researching Esophageal Atresia for Children's Health (REACH) Clinic at Columbia/NYP Morgan Stanley Children's Hospital was founded with the following goals in mind:
Provide coordinated multidisciplinary care that addresses all facets of a child's conditions
Determine how to safely and effectively treat silent reflux and other complications associated with EA
Help older patients transition to practitioners caring for adults who are well versed in the special needs associated with EA
Conduct research to identify genetic abnormalities underlying EA and related anomalies
Conduct longitudinal clinical research in order to develop best-practice treatment protocols.
Watch Now: Go here to access our Updates in EA/TEF Symposium for healthcare providers, patients, and families, recorded on October 4th, 2022.
Current Research Projects
Our ongoing research focuses on three main areas:
To identify gene mutations that will help us better understand development of EA/TEF and its associated defects and serve as a target for future therapeutic modality.
To identify the best practice guidelines for this patient population
To identify the best treatment and surveillance plan that will optimize esophageal function, minimize esophageal injury and avoid unnecessary treatment using a multidisciplinary care approach.
Publications/Presentations
Publications:
Khlevner J, Jodorkovsky D, Bailey D, Middlesworth W, Sethi A, Abrams J, Katzka D. Management of Adults with Esophageal Atresia. Clin Gastroenterol Hepatol. 2022 Aug 9;S1542-3565(22)00737-6.
Zhong G, Ahimaz P, Edwards NA, Hagen JJ, Faure C, Lu Q, Kingma P, Middlesworth W, Khlevner J, El Fiky M, Schindel D, Fialkowski E, Kashyap A, Forlenza S, Kenny AP, Zorn AM, Shen Y, Chung WK. Identification and validation of candidate risk genes in endocytic vesicular trafficking associated with esophageal atresia and tracheoesophageal fistulas. HGG Adv. 2022 Apr 16;3(3):100107.
Wang J, Ahimaz PR, Hashemifar S, Khlevner J, Picoraro JA, Middlesworth W, Elfiky MM, Que J, Shen Y, Chung WK. Novel candidate genes in esophageal atresia/tracheoesophageal fistula identified by exome sequencing. Eur J Hum Genet. 2021 Jan;29(1):122-130. doi: 10.1038/s41431-020-0680-2. Epub 2020 Jul 8. PMID: 32641753; PMCID: PMC7852873.
Singh A, Middlesworth W, Khlevner J. Surveillance in Patients with Esophageal Atresia. Curr Gastroenterol Rep. 2017 Jan;19(1):4
Poster Presentations: 
Haug W, Kingma P, Smith C, Middlesworth W, Khlevner J. "The Great Breastmilk Discrepancy: A Look at Exposure Amongst Infants with Esophageal Atresia/Tracheoesophageal Fistula." The North American Society of Pediatric Gastroenterology, Hepatology, and Nutrition National Annual Meeting. October 2019. Chicago, IL
Khlevner J, Middlesworth W, Wang J, et al. "Novel Candidate Genes in Esophageal Atresia/Tracheoesophageal Fistula Identified by Whole Exome Sequencing" Digestive Disease Week (DDW) June 2018, National Annual meeting. Washington DC 
 Hawks C, Middlesworth W, Khlevner J. " Do Symptoms Reliably Identify Esophageal Stricture in Patients with Esophageal Atresia?" The North American Society of Pediatric Gastroenterology, Hepatology and Nutrition. National Annual Meeting. November 2017. Las Vegas, NV 
Suchy H, Middlesworth W, Khlevner J. "Correlation between multichannel intraluminal impedance/pH monitoring and esophageal biopsy for esophageal surveillance in children with esophageal atresia." The North American Society of Pediatric Gastroenterology, Hepatology and Nutrition National Annual Meeting. October 2015. Washington, DC
Contact Us
For an initial consultation at our multidisciplinary EA/TEF clinic, please contact our coordinator at (212) 342-8585.
---
Stories & Perspectives
Learn how the REACH team helped transform the life of a girl born with esophageal atresia. Read more at the Daily News »
---
Resources for Monitoring Esophageal Health
Please click to download our various educational resources for parents: 
Schooling Resources:
Use your own version of this downloadable Word document to help inform your child's school administrators and teachers about his or her specific needs. Please modify the content to include your child's name and fit your child's symptoms and personal requirements. If you find you had to make significant changes or add a lot of additional information, please email ls3065@cumc.columbia.edu with comments as we are always looking to improve our resources.
Your child may be entitled to public school services under federal Section 504 of the U.S. Rehabilitation Act of 1973, which provides fair treatment to children who require accommodations at school for physical impairments including those related to eating and breathing that can be common in EA/TEF. Requests for children with EA/TEF may include but are not limited to extended lunch time, permission to freely access drinking water throughout the day, or a paraprofessional to accompany your child during meals. Click here for a link to the NYC Department of Education for additional information on their services and application process.
Outside of New York City, you can contact your local school district for information on how to apply for 504 accommodations, and for the contact information of the 504 coordinator at your child's school. For school districts without pre-made official forms or to help you get started, a sample letter format for inquiring about accommodations has been included below.
REACH Clinic Diagnostic Information Sheets:
Our Educational Animations:
The following animations show the path of a food bolus, or mass of chewed food, during swallowing. The animations represent swallowing in a child without EA/TEF, and in a child with repaired EA/TEF. Patients with EA/TEF are prone to stricture, or narrowing, of the esophagus (food tube), as well as dysmotility, or poor forward movement through the esophagus coordinated by involuntary muscle contraction.
Food Path in non-EA Individual
Food Path in EA Individual with Stricture
Food Path in EA Individual with Esophageal Dysmotility
Family Resources:
Please contact or visit the Family Resource Center at the NYP/Columbia Morgan Stanley Children's Hospital for free assistance and additional resources.
---
Olivia's Corner: A Kid's Perspective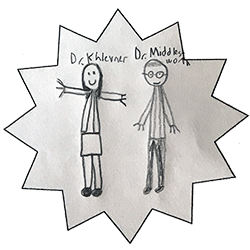 We love it when the kids we treat share their perspectives with us, so we want to share them with you, too! We've gathered some of their amazing art and words to bring you Olivia's Corner, named in honor of one particular patient who helped us understand EA from a whole new point of view.
---
Donate Today:
Please consider giving a gift to support EA/TEF research and treatment. All proceeds from the Esophageal Atresia Clinic Fund go to the REACH Clinic and benefit patients with EA/TEF.
To donate today, please visit: The Esophageal Atresia Clinic Fund
All donation denominations are welcome. We appreciate your generous support!