Towards a Vision of Humanity: Cancer Treatment for All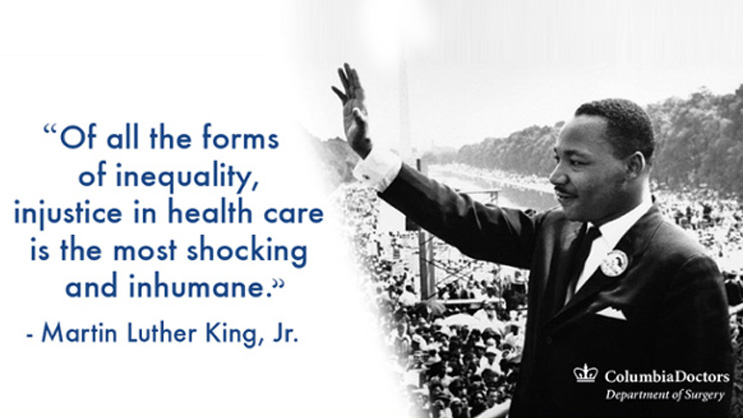 "Of all the forms of inequality, injustice in health care is the most shocking and inhumane."
These words were spoken by Dr. Martin Luther King, Jr. in a speech to the Medical Community of Human Rights in Chicago a half century ago. Even then, while Dr. King risked his life to secure basic civil rights in this nation, he understood that achieving racial equality would be impossible without parity in health care. Sadly, despite the technological marvels and all manners of material excesses we have created, his words still describe much of the experiences of minorities in New York City and across the country.
This week we pause to celebrate Dr. King and his legacy. While we honor his sacrifices and achievements, ethnic and racially based disparity in health care remains a pervasive injustice that demands our full response. Overwhelming data shows that despite improvements in health care and life expectancy, not all patients benefit equally: minorities experience less access to health care, poorer quality of care when it is available, and worse outcomes in treatment of many conditions. [1]
This trend can be seen clearly in cancer, where incidence and survival rates vary considerably across racial and ethnic groups. [2] [3] [4] [5] In collaboration with the Herbert Irving Comprehensive Care Center (HICCC), the Department of Surgery at NewYork-Presbyterian/Columbia is working to turn that trend around with programs designed to increase the participation of minorities in cancer research and to ensure access to both our preventive and treatment services.
Recruiting for Better Representation of Minorities in Clinical Trials
The Minority Underserved Community Oncology Research Program (MU-NCORP) at HICCC is one of only 12 programs in the country dedicated to ensuring full representation of minorities in clinical trials. Expanding upon a similar program that immediately preceded it, NCORP currently recruits minorities to participate in over 40 of the most significant cancer trials including the PACES trial for colon cancer, ALLIANCE trial for breast cancer, and ALCHEMIST trial for lung cancer. In addition to ensuring that researchers fully study the way treatments and technologies work for minority populations, the program expands the quality and improves access to the most advanced cancer therapies to thousands of patients who otherwise might not receive such care.
Read more about the NCORP initiative.
Personalizing Care by Understanding the Genetics Behind Cancer
While ample evidence points to discrepancies in access to health care and the quality of care provided, other emerging research is shedding light on biological differences that may contribute to differences in cancer incidence and survival among various ethnic groups. For instance, some research suggests that biological variations in breast cancers may underlie differences in diagnosis and outcomes among racial and ethnic groups. [6]
NYP/Columbia is actively studying the genetic differences in pancreatic cancer, melanoma, and other cancers, and using that information to develop personalized approaches to novel therapies. In one such case, a new breast cancer protocol seeks to reduce the risk of breast cancer recurrence based on the genetic makeup of tumors. [7]
Providing the Highest Quality Surgical Care to the Underserved
Individual divisions within the Department of Surgery are also tackling racial and ethnic disparities in specific clinical areas through outreach efforts, screening programs, and research.
Breast cancer: Disparities in breast cancer are nothing short of stark. Even though white women are more likely than black women to develop breast cancer, black women in the U.S. are 40% more likely to die of breast cancer than white women. [8] [9] Hispanic and Asian women face different but significant disparities as well. Asian women have higher rates of mastectomy and lower rates of breast reconstruction than their non-Asian peers. Hispanic and black women are more likely to receive diagnosis at later stages, which leads to poorer outcomes.[10]
In response to these and many other findings, the Comprehensive Breast Care Program reaches out to minority patients through many avenues. Its annual symposium, Bridging the Gap, which is open and free to the public, provides high quality education and support to minority patients in an effort to close the gap in breast cancer outcomes among women of all ethnic groups. [Stay tuned for forthcoming event information]
A monthly Wellness Series is also held locally in Spanish as well as English, which provides cancer prevention and wellness education and support to women who have been diagnosed with any form of cancer, and is specifically designed to reach minority women in the Washington Heights area.
Our physician-researchers are focused on understanding and rectifying ethnic disparities in care for women with breast cancer through many studies, including a current study on breast reconstruction after mastectomy among Chinese women, a study of an intervention to prevent lymphedema in Chinese patients, and many other trials.
The Mailman School of Public Health just concluded a study called Cook for Your Life, which focused on improving nutrition among Hispanic breast cancer patients, which is part of larger efforts to improve cancer outcomes in Latina patients through lifestyle changes such as a healthy diet.
The Breast Cancer Program has also established translation services for Spanish and Chinese speaking patients to facilitate patient registration as well as appointments with physicians and other staff.
Gastric (stomach) cancer: Gastric cancer is one of the most common cancers in Asia. In the U.S., it disproportionately affects Asian American, black, and Hispanic patients.
The Gastric Cancer Care Program of NewYork-Presbyterian/Columbia University Medical Center is committed to reducing the toll of gastric cancer overall, particularly through intensive efforts to promote early screening for high-risk patients. In addition to efforts aimed at establishing new national standards for screening, the center has enrolled 100 Korean American patients for gastric cancer screening in a prevention and early detection study in partnership with Holy Name Hospital's Korean Medical Program in New Jersey.
Offering Hospital Services to Reach the Uninsured
In a complementary manner, two NYP programs ensure quality and access to cancer care. The Community and Ambulatory Research and Education (CARE) Program assures diverse representation in cancer research, and the Manhattan Cancer Services Program (MCSP) is on ongoing cancer screening and education program for uninsured New Yorkers. Diagnostic and treatment services are provided by NYP providers at seven locations in Manhattan for patients' convenience. MCSP also conducts Patient Navigation services through The Ambulatory Care Clinics at NewYork Presbyterian to assure participation in cancer screening by all enrolled patients.
We believe every person deserves high quality health care. Despite much progress during the past decades, much work clearly remains to be done. We hope our contributions will have lasting impact that ripples from our center, to our city, our nation, and beyond.
REFERENCES