Roshni Rao and the Art of Effective Communication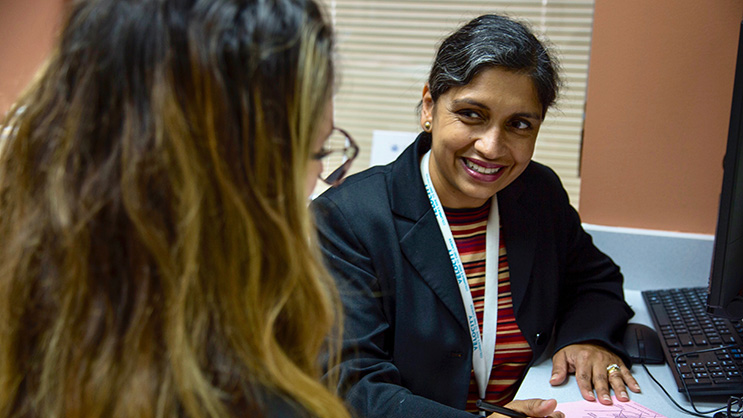 By Lindsay Gandolfo
You have cancer — Three words that have the power to transform life in an instant, to pinpoint existence in its most precious state and steal the future right from under your feet. It's a phrase we all fear in one way or another. We know it's implications. In movies, on television, "you have cancer" usually means inevitable death. In reality, it's much more complicated.
Diagnosis starts with an unknown, a discovered abnormality, a lump or discomfort. And the way in which a physician delivers the message has the power to generate informed apperception or compound further confusion and fear.
The message holds multitudes. 
On the day I followed Columbia's chief of breast surgery, Roshni Rao, MD, it was blistering hot. The air weighed with a heat begging to break. We met in the early morning at the midtown office on 51st street where Dr. Rao had already seen one of the day's 20 patients.
As I walked into the exam room functioning as her office, a resident, Laurie Schlemer, MD, was presenting the next case. Flanked on either side of Dr. Schlemer were a medical student, Yessina Wassef, and an eager high school intern working on a summer research project who scribbled away in her notepad.
Behind them stood Dr. Rao, perched in front of her laptop on a mobile standing desk no larger than a catalog envelope in the middle of the tiny room. She stood with upright ease, nodding along as Dr. Schlemer spoke. Dr. Rao carefully reviewed the radiology images on her computer, moving her face closer and closer until she froze with her nose just 3 inches from the screen. They discussed the abnormality in the mammogram displayed, a calcification that had moved since the patient's previous mammogram and now appeared jagged. A biopsy was necessary. 
Dr. Rao possesses a natural calm; she's measured, clear, laconic. Her final question—"Have you done a risk assessment?" Since Dr. Schlemer hadn't yet, they did it together. Dr. Rao explained that she uses the online tool developed by the National Cancer Institute to assess 5-year and lifetime breast cancer risk for most patients she sees. 
Its results display as a simple pie chart that works as an aid when explaining treatment options that come with a higher risk of invasive breast cancer. The assessment takes into account personal medical and reproductive history along with a history of breast cancer among first-degree relatives. Before she hit the 'calculate risk' button, Dr. Rao went around the room asking for a guess of what percentage the assessment tool would generate.
The patient in question was around 40 years old, had two children after the age of 30 (something, I learned, that increases your breast cancer risk), and had a jagged calcium deposit in one of her milk ducts. In some cases, calcifications found in mammograms can lead to a diagnosis of DCIS, or early breast cancer. The room rang with three guesses for low-risk, meaning under 20 percent. 
Dr. Rao shook her head, "she's going to be high risk." And she was, with a lifetime risk over 35 percent. Additionally, she has the BRIP-1 gene mutation, linked to an increased risk of ovarian cancer, which her mother died from, and possibly an increased risk of breast cancer. That's an added cause for precaution.
Once in the room with her patient, Dr. Rao exudes a soft yet genuine respect for the vulnerability one feels sitting on an exam table, breasts exposed in an open hospital gown, waiting to understand the results of an abnormal mammogram. Dr. Rao's physical examination takes on a choreography designed to minimize any discomfort that may come with the experience.
As she rubs her hands together to warm them, the dance swiftly begins, "Arms way up above your head, and down. Hands behind your head, and down. Very good. Lay down, hands behind your head." She glides from one breast to the other, "Go ahead and sit up for me while I check your neck. Very good. Now you can put your clothes back on and come sit with me at the desk."
As soon as the exam was done, it was time to sit face to face as equal partners, eye to eye, at the desk against the wall. It was time to get down to the business of treatment.
In that post-exam moment, and the 18 more that later followed with her next patients, the treatment discussions were the only occasions Dr. Rao sat down in a chair all day. In those conversations, the clocks disappeared. There was one goal: to make sure her patients left with clarity, a starting plan, and not one lingering question left unanswered. 
Her frankness has a choreography of its own, too. She possesses a distinct ability to evaporate the tension in the room with her delivery of treatment options and prognosis. There's an absence of paternalism in her tone and cadence, a quality that generates attentiveness and ease. Dr. Rao knows how to build trust and makes it her priority. She is not afraid to allow a quiet pause time to sprout fresh thought.
She begins by pulling out a pink sheet of paper that has a thin outline of a breast. Drawing as she goes, Dr. Rao explains the anatomy and shows that the breast is made up of three parts: lobules (glands that produce milk), ducts (tubes that carry milk to the nipple), and fat. In this case, she went on drawing calcium deposits in the duct, "Let's say I take out one duct and cut it under a microscope, the duct would look like a tube with square cells..." 
As she continues, she describes the possibilities of what she may find in the duct—if there are too many cells that is called duct hyperplasia, if the cells are distorted, that's atypical hyperplasia which can increase your risk of breast cancer by 4 or 5 times. She explains the chance it could be an early breast cancer, in which case they would remove the tissue and do chemotherapy. In that instance, because of her risk, she may recommend additional hormonal therapy, tamoxifen, that would reduce her risk of breast cancer coming back by 50 percent. She even explains the path of prophylactic or preventative mastectomy, what that road would look like, and in which cases it could be an option. 
Slowly and methodically, leaving ample space for questions and concerns, Dr. Rao addresses the gamut of possibility, doing what she can to eliminate the potential aftershock that could arise from a late night spent on Google. Every option is laid out on the table, drawn on the pink sheet between them.
But, as Dr. Rao puts it, "That's way off into if-land. If we do the biopsy and it's not cancer, you can choose the route of close observation or choose to undergo preventative tissue removal. Both make sense, we just need to decide what makes sense for you."
They continued to discuss next steps, lifestyle, family plans, and history, bounced around the choices and their potential outcomes some more. Then, when her patient was ready, they started plotting immediate next steps together, starting with the biopsy. As they talked, Dr. Rao wrote them down in bullet points on the back of the pink sheet. 
Finally, with a plan in place and no stone left unturned, Dr. Rao paused again, sat with her elbow on the desk and hand cupping her jaw, and simply waited as her patient absorbed the collection of possibilities just presented—the multitudes.
---