Inpatient Experience
The liver fellows spend approximately 4 months of the year each on the inpatient liver transplant service at Columbia University Medical Center and Weill Cornell Medical Center. They are responsible for evaluating and providing care to liver patients in the hospital under direct attending supervision. With 15-30 patients on service at any given time and approximately 180 liver transplantations performed a year, the in-patient service is a multi-disciplinary service staffed by an attending hepatologist and liver transplant surgeon, physicians assistants (PA's) and medical and surgical fellows. The liver service is responsible for all patients prior to and following transplantation, complex liver cases admitted by one of the attendings or seen in consultation, and patients with hepatobiliary diseases or malignancies undergoing surgery. The service assumes primary care for patients in the ICU and on the general medical floors. The fellows have supervisory and leadership roles on the service and are directly responsible for the care of both pre- and post-transplant patients. Endoscopy and ultrasound guided liver biopsies on all patients on the service are shared by the transplant hepatology fellows. Our service is unique to most programs as our hepatologists play an integral role in managing patients immediately post-transplant, and fellows will feel quite prepared in managing post-transplant patients.  
Outpatient Experience
The liver fellows spend one half-day a week in the outpatient clinics with Drs. Lorna Dove and Elizabeth Verna while on inpatient rotation at the Columbia campus and two half-days a week while on inpatient rotation at the Cornell campus with Dr. Robert Brown. This allows ongoing mentored development of clinical skills with assessment by a senior faculty mentor. All the clinics include pre- and post-transplant patients at both the Columbia and Cornell campuses. The practice is a consultative practice limited to liver diseases and sees a broad array of diagnoses including a large population of patients with hepatitis B and C, alcoholic hepatitis, autoimmune hepatitis, benign and malignant neoplasms of the liver, and difficult tertiary care problems in hepatology. All clinics within the CLDT are multidisciplinary and are staffed by attending hepatologists and hepatobiliary/transplant surgeons. In addition to the attending staff, NP's and PA's as well as rotating medical residents, students, and GI fellows participate in evaluating patients. Each session includes extensive teaching, radiologic review, and case discussion. 
The transplant clinic sees 10-12 new transplant evaluations per week as well as following the >300 patients on the transplant waiting list and all post-transplant patients. The fellows are exposed to the management of end-stage liver disease and its complications, the workup of patients for living and deceased donor liver transplantation, and the evaluation of the potential living donor. On the post-transplant patients, immunosuppressive management and prevention and treatment of long-term complications including recurrent fatty liver disease and other diseases, osteoporosis and renal dysfunction will be stressed. Recognition of early complications including both surgical problems (wound infection, hernia, biliary complications) and medical complications (CMV, rejection) are integral skills acquired in the post-transplant clinic. Longitudinally, an advanced practice practitioner cares for transplant patients in the CLDT in conjunction with a collaborating attending transplant hepatologist. 
The remaining four months will be spent exclusively in the outpatient practice, with fellows attending clinics based on their clinical and research interests. In the past fellows have attended clinics based on their interests in alcohol and non-alcohol fatty related liver disease, hepatocellular carcinoma, palliative care, There is also protected time for fellows to complete their research projects and manuscripts. 
Procedures and Other Clinical Experience
Liver biopsies are performed as an outpatient and on the inpatient post-transplant patients. All ultrasounds for liver biopsy are performed by the fellow and confirmed by the attending hepatologist. The fellows also performs both inpatient and outpatient endoscopy, and have exposure to advanced procedures including ERCP for biliary complications after transplant will also be available. They participate as an observer in at least 3 liver procurements, at least one of which will be for living liver donor procurement, and at least 3 recipient transplant operations, at least 1 being a living donor recipient as required for UNOS certification as a liver transplant physician.
Conferences and Colloquia
During the transplant fellowship, all fellows attend and contribute to all teaching conferences of the Division (see table below). Four additional conferences within the Center for Liver Disease & Transplantation (CLDT) are multidisciplinary involving hepatologists, surgeons, oncologists, radiologists, and psychiatrists. At these conferences, the fellows are expected to present patients they have evaluated in both the outpatient and inpatient settings, discuss relevant findings and participate in the formulation of a clinical plan. Fellows are also encouraged to attend the annual meetings of the American Association for the Study of Liver Diseases (AASLD) and the American Society of Transplantation (AST).
Columbia Rotation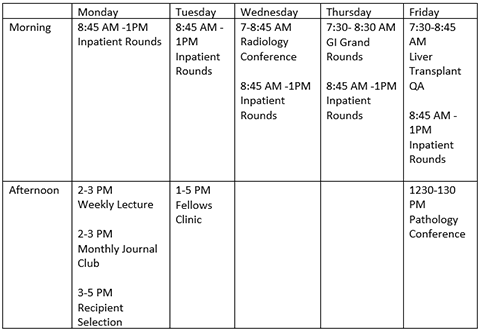 Cornell Rotation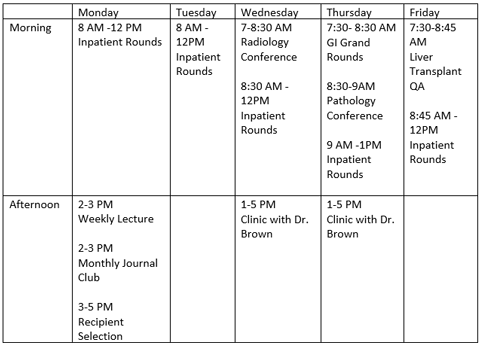 Sample Rotation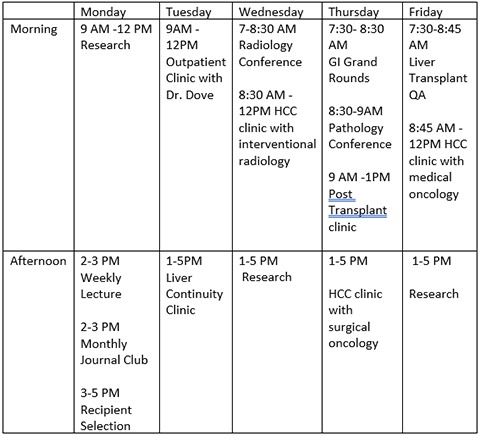 Facilities
Formed by the merger of the two university hospitals of Columbia and Cornell, New York-Presbyterian Hospital is a leader in medical care and research. The Center for Liver Disease and Transplantation (CLDT) was created at the time of the merger, and as part of a Comprehensive Transplant Institute at New York-Presbyterian, CDLT is a multidisciplinary center with a fully integrated team of experts in medicine, surgery, radiology and pathology. The Center has grown to perform ~180 liver transplants a year. It includes one of the largest adult-to-adult liver transplant programs in the country and an active pediatric liver transplant program. The CDLT has clinical offices and faculty at both Columbia and Cornell, and combined there are 13 transplant hepatologists in the program, as well as 9 hepatobiliary surgeons, 2 psychiatrists, 4 surgical and 3 transplant hepatology fellows, 17 outpatient advanced practice  practitioners, 5 social workers, as well as research coordinators and an administrative support team.
At NewYork-Presbyterian, our teams are highly experienced. Patients travel from across the country and around the world to seek treatment at our centers. Our hospital offers procedures, services, and facilities that may be challenging to find elsewhere, including treatments based on the latest medical advances and opportunities to participate in clinical trials of promising new therapies. All of the care you need is available in one medical center from world-renowned Columbia University and Weill Cornell Medicine physicians.
The Division of Digestive and Liver Diseases comprises 23 full time faculty members. There are 12 clinical fellows in the ACGME gastroenterology fellowship program and three clinical fellows in the ACGME transplant hepatology fellowship program as well as advanced endoscopy, nutrition, and several research fellows in the laboratory.
Weill-Cornell Medical Center
The Division of gastroenterology comprises 34 full time faculty members. There are 12 clinical fellows in the ACGME gastroenterology fellowship program as well as advanced endoscopy, inflammatory bowel disease, and nutrition fellows.