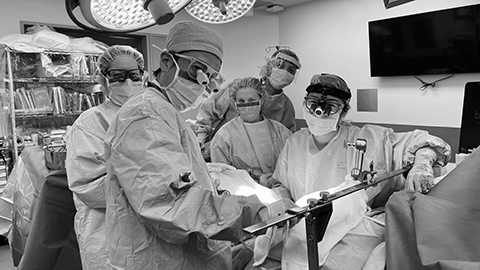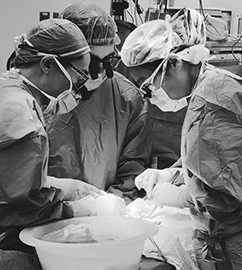 The goal of the transplant surgery training program at Columbia University Medical Center is to train individuals as surgeons and as leaders in the field of abdominal organ transplantation.
To provide trainees with actual knowledge in the preoperative evaluation, operative management, and postoperative care of patients with end stage organ failure.
To provide trainees with technical proficiency in liver transplantation, renal transplantation, laparoscopic and robotic donor nephrectomy, and hepatobiliary surgery, including laparoscopic and robotic liver surgery.
To provide exposure to medical and surgical management of intestinal failure, including intestinal rehabilitation, intestinal reconstruction surgery, and intestinal and multivisceral transplantation. Follows with special interest in this area have the opportunity to gain proficiency.
To provide trainees with understanding and experience in immunosuppression management.
To provide trainees with understanding of methods for expanding access to transplantation for end-stage organ failure, including the use of ECD organs, ABO incompatible transplants, and living donor liver and renal transplantation.
To provide trainees the ability to evaluate donor organs and perform advanced multi-organ procurements.
To provide experience in the management of patients in an intensive care setting.
To provide an environment in which clinical and basic science literature can be evaluated and assessed critically, leading to sound conclusions.
To provide the ability and desire to ask important questions and initiate investigative studies to further the science of transplantation. Opportunities for publication are widely offered. Both clinical and basic science opportunities are available.
To foster attitudes and interpersonal skills that will allow a trainee to communicate well with peers and patients, and to carry him or herself with dignity.
The opportunity to attend relevant national and international conferences, especially for fellows who have had abstracts accepted.
Mentorship from faculty who had achieved great success with clinical and scientific achievements, including pioneering clinical methods and international leadership in the field.
Assistance with networking within the transplantation community.