Robotic surgery is a safe, accurate, and minimally invasive alternative to traditional open heart surgery. The robotic cardiac surgery program at Columbia pairs state-of-the-art technologies and unmatched surgical expertise to deliver highly precise surgical treatment for a wide range of heart conditions. 
To learn more or to make an appointment with the robotic cardiac surgery program, please call (212) 305-8312 or use our appointment request form.
---
Image: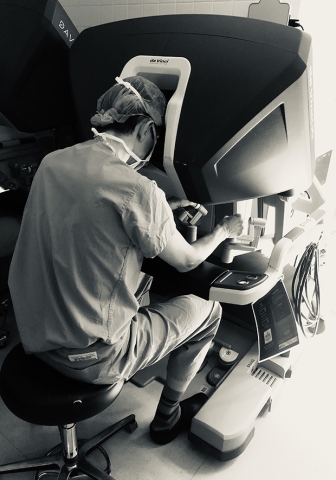 What Is Robotic Heart Surgery?
Robotic heart surgery is a minimally invasive approach where the surgeon uses a machine to perform operations with pinpoint accuracy. 
A cardiac surgeon makes small incisions in the side of the patient's chest wall, allowing the arms of the machine to access the heart. The surgeon then controls the machine's movements from a console.
Using this approach, the surgeon can safely treat a number of conditions, including: 
---
What Are the Benefits of Robotic Surgery?
Image: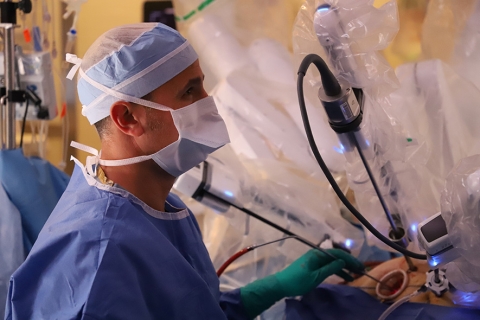 In the hands of an expert surgeon, robotic surgical devices are versatile tools for performing complex tasks with the highest level of precision. Because robotic surgery is minimally invasive, it offers a number of benefits over traditional open surgery, including:
Smaller incisions
Less pain during recovery
Lower risk of complications, such as infection and need for blood transfusion
Greater precision for repair
Shorter hospital stays
Faster recovery times
---
Treatments We Offer
Image: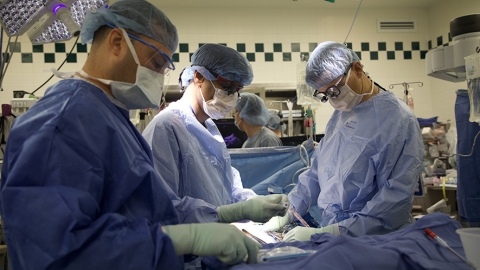 Atrial septal defect closure
Left atrial appendage closure
Valve repair/replacement
---
Program Highlights
A Leader in Robotic Surgical Excellence
Our skilled cardiothoracic surgeons are amongst the most experienced robotic surgeons in the region. That advanced knowledge of robotic techniques allows us to treat even the most difficult cases with superior outcomes.
The Most Advanced Robotic Mitral Valve Treatments
Our mitral valve surgery program offers the latest in robotic mitral valve repair and replacement using the da Vinci Xi robotic system, providing unmatched precision and confidence during surgery.
Learn More About Our Mitral Valve Program Here at Columbia
Seamless Care Across All Specialties
As part of Columbia University Irving Medical Center and NewYork-Presbyterian Hospital, we collaborate with leading cardiologists, cardiac imaging experts, and other specialists to deliver comprehensive care before, during, and after your procedure.
The Latest in Research and Development
Our surgeons and cardiologists are active in research into new and innovative surgical techniques and device development for treating heart conditions. We offer access to current clinical trials, including those exploring minimally invasive procedures.
---
Our Team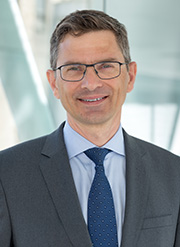 Dr. Geirsson is the Director of the Cardiovascular Institute and Director of the Surgical Heart Valve Program at NYP/Columbia. His clinical practice focuses on minimally invasive cardiac surgery and valve surgery, specializing in robotic mitral valve repair and aortic valve repair.
---
Our Locations
We are located at:
Cardiac Surgery, Room 7-435
Milstein Hospital Building, 7th Floor
177 Fort Washington Avenue
New York, NY 10032
Get Maps & Directions »
---
Make an Appointment
Get started with our team by calling (212) 305-8312 or use our online request form.