If you have been diagnosed with mitral valve disease, you understand the impact it can have on your quality of life. Symptoms like fatigue, shortness of breath, palpitations, and a reduced ability to exercise can make it difficult to do the things you love. And over time, mitral valve disease can contribute to serious and life-threatening heart conditions.
Image:
The mitral valve surgery program at Columbia offers a full spectrum of treatment options, including minimally invasive procedures and the latest in robotic-assisted surgical techniques. We combine world-renowned surgical expertise and innovative research to provide the highest level of care to help you get back on track. 
To make an appointment with the mitral valve surgery program, please call (212) 305-8312 or use our appointment request form.
---
What Is Mitral Valve Disease?
Image:
Mitral valve disease is any condition that keeps the heart's mitral valve from functioning properly. A healthy mitral valve opens to allow freshly oxygenated blood to pass from the left atrium into the left ventricle. The valve then closes tightly to prevent blood from flowing back into the left atrium.
Sometimes the mitral valve fails to form a tight seal and blood leaks back into the left atrium. This is called mitral regurgitation, and it is one of the most common forms of mitral disease. In some cases, this is preceded by a condition called mitral valve prolapse, in which the flaps or leaflets of the valve become floppy. Mitral prolapse affects 1 to 2 % of the population.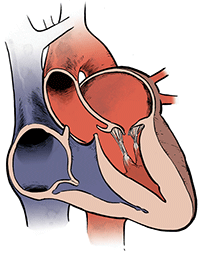 A less common but still frequently seen condition is mitral stenosis, or the narrowing and stiffening of the valve, which reduces the amount of blood flowing through the body. The stiffened valve forces the heart to work harder to compensate for the reduction in blood flow. 
Over time, mitral valve disease can weaken and damage the heart and lead to serious and life-threatening heart problems. 
Learn More About Mitral Valve Disease 
 
---
Our Services
At Columbia, our surgical program is committed to providing the biggest relief using the smallest incisions. While traditional "open heart" surgery may be necessary in some cases, we always strive for minimally invasive techniques that avoid the need to split the breast bone. 
Image: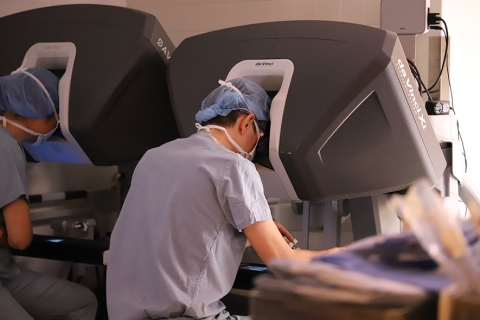 To bring you the most advanced options available, we have leading experts in robotic mitral valve surgery. We use the da Vinci Xi robotic system as a safe and effective way to repair the mitral valve, while offering superior visualization and precision for the surgeon. Robotic surgery consists of five small incisions, 1/4 inch to 1 inch in size, in the right chest wall. The arms of the robot pass through these small ports and are then guided by the surgeon, allowing them to move with greater dexterity and precision than if operating by hand.
If robotic surgery is not an option, we offer mini-thoracotomy which is another minimally-invasive surgery to repair the mitral valve. The incision is slightly larger than the ones used during the robotic mitral procedure (3-4 inches), and is made between the ribs, which prevents the traditional surgery approach of splitting the breastbone and ribs. 
We also offer the latest in transcatheter valve repair. This minimally invasive approach uses a thin tube called a catheter to access the mitral valve through a large blood vessel, often in the groin. The repair device is then guided through the catheter up to the mitral valve, which is then repaired from inside the heart. Transcatheter procedures offer lower risk of complications, reduced recovery times, and shorter hospital stays compared to open surgery.
Image:
When deciding which option is right for you and which approach to use, our team will develop a personalized treatment plan based on many factors, including:
Overall health
Other existing health conditions
Condition of the valve
Benefits and risks of surgery
---
Program Highlights
Unmatched Surgical Expertise
Columbia is home to one of the most experienced and respected cardiac surgery programs in the world. We often treat people that have been turned away from other cardiac programs and can find options for any patient, no matter the complexity of their case.
The Most Advanced Technologies, with a focus on Robotic Surgery
We offer the latest minimally invasive approaches for mitral valve repair and replacement, including robotic cardiac surgery using the da Vinci Xi robotic system.
Learn More About Robotic Cardiac Surgery at Columbia
Multidisciplinary Approach to Care
Our surgeons work with leading cardiologists and imaging experts here at Columbia/NewYork-Presbyterian to provide the highest level of care throughout your journey—from diagnosis to surgery and recovery.
Groundbreaking Research
Our specialists are active in ongoing research to improve, expand, and refine treatment options for mitral valve disease. We offer access to the latest clinical trials for device development and minimally invasive approaches.
---
Our Team
Image:

Dr. Geirsson is the Director of the Cardiovascular Institute and Director of the Surgical Heart Valve Program at NYP/Columbia. His clinical practice focuses on minimally invasive cardiac surgery and valve surgery, specializing in robotic mitral valve repair and aortic valve repair.
Image:

Dr. George performs all types of open complex adult cardiac surgery, including valve surgery, aortic aneurysm surgery, and coronary bypass grafting. He is a specialist in all forms of transcatheter valve therapies and is the Surgical Director of the Structural Heart & Valve Center.
Image:

Dr. Pirelli earned his medical degree from the University of Milan, Italy. He completed his cardiac surgery training at the University of Milan and New York University. Dr. Pirelli's expertise include transcatheter valve therapies and surgical valve repairs.
---
Our Locations
We are located at:
Cardiac Surgery, Room 7-435
Milstein Hospital Building, 7th Floor
177 Fort Washington Avenue
New York, NY 10032
Get Maps & Directions »
---
Make an Appointment
Get started with our team by calling (212) 305-8312 or use our online request form.