By Cale Li, MD
If you asked, he would tell you it was the luck of the Irish. On March 17th (St. Patrick's Day), Gary Quinlan, 61, of Pound Ridge, NY, successfully underwent the first lung transplant and triple coronary bypass at New York-Presbyterian/Columbia after several weeks battling COVID-19 infection.
By the time of his discharge after surgery, Quinlan had been in the hospital for 103 days. The weeks leading up to this day were filled with physical suffering, anticipation, disappointment, and eventual relief.
Everything started on Christmas Day.
"I came down the steps, I got to the bottom of the steps and I just couldn't breathe. I was admitted on Christmas morning," said Quinlan. "The week before, I had some of the symptoms but not all. I wasn't running a temperature, I just had aches and pains."
His wife drove them to Stamford Hospital in Connecticut. He was boarded in the emergency room at first, but his respiratory status started going downhill after a day.
"It's pretty rough when you can't breathe and they put you in a prone position. I also have a lower back problem, so that didn't feel so great either, but it just…it's just like somebody's choking you to death 24/7. It's brutal," said Quinlan.
Quinlan stayed in the hospital for two and half weeks before feeling a little better. He was discharged home for a weekend but quickly returned to the hospital when his oxygen started to plummet again. He felt better after getting supplemental oxygen and was readmitted.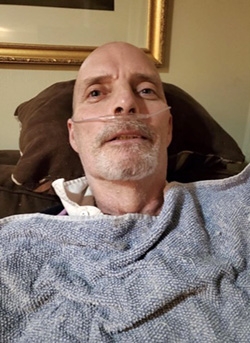 "They tried to wean me off the oxygen. The lowest they could get me was 30 liters at 50 percent oxygen, so at that time they said they were trying to give my lungs time to heal themselves. Once it was obvious that wasn't going to happen, that's when we started talking transplant and started applying to Columbia/New York-Presbyterian for a double lung transplant," said Quinlan.
"Because he was stuck in the hospital, they contacted us and we accepted him for transfer for possible lung transplant evaluation," said Dr. Joshua Sonett, Chief of Thoracic Surgery and Director of The Price Family Center for Comprehensive Chest Care. "The only other thing in his history that's fairly out of ordinary is he was recently treated for prostate cancer with surgery in the summer of 2020. For most cancers, a lot of transplant centers would like to wait at least two years after cure of cancer, but we take unusual candidates for transplant. We did that because surgery was successful and his PSA level was undetectable."
Many patients with COVID-19 infection recover back to their normal lung function. Some patients, however, do not because of the extensive scarring in their lungs. Quinlan's chest imaging showed that he had extensive fibrosis, or scar tissue, in his lungs. Dr. Sonett and the physicians who read his CT (computerized tomography) scan described the damage caused by COVID-19 as "having punched out holes in his lungs."
"When we had him transferred in February, he was on high-flow nasal cannula oxygen, and he looked like he really needed it, meaning he could not go home. He had post-COVID pulmonary fibrosis," said Dr. Selim Arcasoy, Medical Director of the Lung Transplantation Program at New York-Presbyterian/Columbia.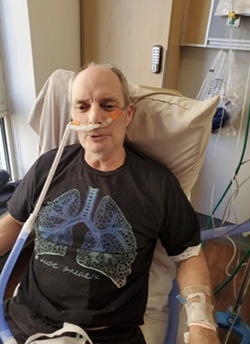 Due to his severe lung scarring, Quinlan and his doctors started to discuss the reality of a double lung transplant. Routine preoperative evaluation involves heart catheterization to assess pressures in the heart and blood flow through the heart vessels to make sure there are no blockages. Quinlan's EKG was abnormal, which prompted further investigation of his heart.
"They did the right and left heart catheterization, and that's when they found blockages in three vessels of my heart," said Quinlan.
Prior to his transplant evaluation, Quinlan knew he had high cholesterol but had no idea he had coronary artery disease. He had felt healthy, took no medications, and supplemented with a multivitamin.
"There is heart disease in my family and I do have high cholesterol, but it just was...it was just kind of another blow, you know?" said Quinlan. "At that point there I was already in the hospital for at least about six or eight weeks."
"Normally [severe coronary artery disease] would be a barrier to lung transplant, especially in someone who's as ill as he is, on high-flow oxygen and hospital-bound. But we as a team decided that we could do better," said Dr. Arcasoy.
The medical team saw two options: try placing coronary artery stents and wait to perform lung transplantation once Quinlan's heart function improved, or do the lung transplantation at the same time as triple coronary artery bypass graft surgery.
"We chose the latter, although it's a riskier approach, because once he receives stents, he would have to go on significant blood thinning therapy, which would preclude safe transplant for at least three months," said Dr. Arcasoy. "We were worried that he did not have that much time because of how sick he was, so we thought that concomitant lung transplantation and bypass grafting would be the best choice."
"We planned the operation with the cardiac team, we designed it. Something that we rarely do," said Dr. Sonett. After extensive discussions, testing, and planning of a complicated three-vessel coronary bypass with Dr. Isaac George, cardiothoracic surgeon and Surgical Director of the Heart Valve Center, Quinlan and his medical team decided it was time to proceed with surgery. He waited several long, anxious weeks in the hospital for a lung from a donor.
"It was pretty stressful because I had two dry runs. Basically, they say they have a lung, they bring you down to pre-op, and they get you ready. Then at the last minute, they're like, 'No, the lung is no good.'" said Quinlan.
Good news finally came in March, garbed in green.
"The third time was a charm. It was kind of amazing because to pass the time I was playing, not a word search game, but one where you have to build words out of letters, and one of the words was 'lungs', and that was the day before the surgery, said Quinlan. "I actually had my surgery on St. Patrick's Day and I just happen to be half Irish also."
"Dr. George started it off with the open heart operation. And then, after they completed the triple bypass, we leave the chest open. We sew in the right lung, and then both teams closed the chest," said Dr. Sonett. "Quinlan has done remarkably well."
Two weeks after surgery, he completely weaned off oxygen. The entire recovery period in the hospital took almost four weeks.
"I had a couple of issues early on. I had some atrial fibrillation, where my heart rate would just race to like 200 beats per minute for no reason. They took care of that with medicine," said Quinlan. "And then, I was on a feeding tube for about three weeks and I went through some tests, and I had some issues swallowing. That was pretty rough."
Quinlan isn't the only patient who has required lung transplantation after falling ill from COVID-19 infection. While many patients go on to have a full recovery, a rare proportion of people, like Quinlan, develop such a degree of scarring in their lungs after the initial infection that they never recover.
"There's a subset of COVID pneumonia that leads to permanent destruction in the lungs—fibrotic destruction of the lung, resulting in the need for supplemental oxygen requirement," said Dr. Arcasoy. "As in our case here, Mr. Quinlan was not able to go [home] because he needed so much oxygen and showed no signs of recovery. He was hospitalized Christmas day and we transferred him in February, by that time he was still requiring high-flow oxygen.
"So here he is, two, three months later, he's not on a ventilator, he's not on ECMO, but he requires so much oxygen that he was in chronic respiratory failure. His CT scan showed extensive fibrotic changes as well as bullous changes. So, destruction of his lungs in both sides."
Dr. Arcasoy expects that lung transplantation as a treatment for severe post-COVID-19 pulmonary fibrosis may be here to stay.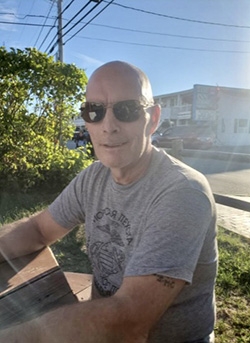 "The call volume is enormous. We get a phone call at least once a day about a COVID-19 patient in a tri-state hospital," said Dr. Arcasoy. "I think this is a new entity that we're learning a lot about and we're getting more and more comfortable in taking care of these patients, with regard to transplants."
Since his discharge home, Quinlan has been slowly acclimating back to routine life. Every Monday, he takes the hour-long drive into the city for checkups in clinic with a multidisciplinary team, which includes doctors, physical and respiratory therapists, and nurses. He looks forward to his full recovery.
"I would go on a nice little vacation. Obviously, with COVID it's going to have to be local," said Quinlan. "Just to get away."
---