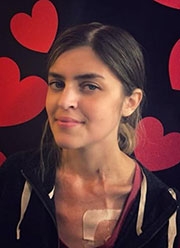 Thirty-year-old Orla Tinsley had already revolutionized care for patients with cystic fibrosis (CF) in Ireland when she came to NYP/Columbia for a lung transplant in 2017. Though she spent her life in and out of hospitals, Orla did not let her illness define her, nor did she allow it to interfere with her talent and her will to help others.
At age 18, she wrote an award winning feature in The Irish Times calling attention to the plight of young people suffering from CF, a life-threatening genetic disease that affects the lungs, the sweat glands and the pancreas. For the next seven years she spearheaded a campaign to establish the first hospital unit for adult CF patients in Dublin and raised money for other CF centers through the country. "A special ward is critical so CF patients aren't exposed to infection," Orla says. Patients' lungs are so damaged that any contact with flu, staph or other bacteria, can be fatal.
Next, Orla wrote a highly acclaimed memoir, Salty Baby. "When you have CF, your salt levels are very high. In the old days, people warned young mothers, Beware the baby with the salty brow." In this courageous book, Orla describes the sudden deaths of friends who shared her diagnosis, the discipline it takes to live with this disease, and the challenge many patients face in getting the proper care in Ireland, which has the highest incidence of CF of any country in the world. When her story became a best-seller and was shortlisted for Best Newcomer at the Bórd Gáis Irish Book Awards, a friend encouraged Orla to apply to Columbia's renowned creative writing program.
In summer 2014, she arrived in New York, eager to start her classes. A year into the program, her lungs collapsed. Doctors re-inflated them in the local emergency room. When Orla's right lung collapsed again, she underwent a procedure called pleurodesis, in which medicines are placed between the lung and chest wall. This helped stabilize her for a while, but Orla lungs were further stressed.
"I had these little bleeds and told myself that I could manage them," she says, "because I had this burning desire to finish my degree." By spring 2016, Orla was struggling, and bravely marched to class pushing her oxygen tank. At the end of year, she was assessed for a lung transplant.
"I always knew a transplant could be in my future," Orla says, "While I didn't expect it so soon, I felt that fate had brought me to a university that also had one of the top transplant centers in the world."
Dr. Joshua Sonett, Chief of General Thoracic Surgery at NYP/Columbia, and Dr. Selim Arcasoy, Medical Director of the Lung Transplantation program, explained that a transplant could have a dramatic effect on her health, adding years and greatly improving the quality of Orla's life. Then Dr. Luke Benvenuto, a pulmonologist, helped her prepare for the procedure. Over many meetings, they discussed the many ways that Orla's treatment and recovery might unfold. 
On December 14, 2017 Orla was placed on ECMO (extracorporeal membrane oxygenation), a machine that essentially breathed for her, taking over the function of her failing lungs until a donor could be found. The guidelines for organ allocation had just expanded, allowing organs to come from a greater distance. Orla received her transplant only a week later, on December 21, 2017. "I can't praise the Columbia transplant program enough," she says. "The doctors were superb, and the ICU nurses so supportive. Their multidisciplinary team was vital and they were superb communicators. I had all these people working together to help me heal."
By the third week of January, Orla was ready to go home. Her brother and her parents were there to support her in the early days of her recovery. "A few weeks ago, I was walking in Central Park," Orla says. "I realized, it's sunny it's warm, it's beautiful. I can hear the birds, and I'm alive. Someone gave me her lungs, and I've got to do my best to take advantage of this gift."
Orla is completing her degree and has just finished making a documentary film about CF. She does yoga four times a week, and she's started running. "I feel very strong and positive," she says, "and very lucky to have this new lease on life."