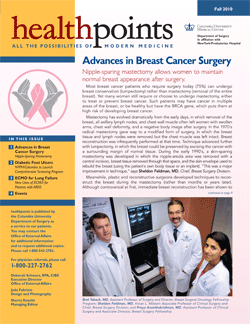 CONTENTS
Nipple-sparing Mastectomy: An advanced surgical technique allows women to maintain normal breast appearance while undergoing mastectomy to prevent or treat breast cancer.
Screening for Diabetic Foot Ulcers: NYPH to launch a comprehensive program to detect, prevent, and advance evidence-based treatment of diabetic foot ulcers.
ECMO for Pulmonary Failure: For adults with acute respiratory distress syndrome, innovations at the new Adult ECMO Program provide lifesaving options.
New Faculty: New Faculty appointments in 2010 and 2011 at Columbia University College of Physicians and Surgeons Department of Surgery.