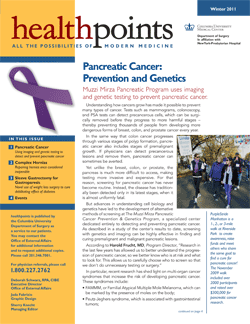 CONTENTS
Pancreatic Cancer: Using imaging and genetic testing to detect and prevent pancreatic cancer.
Complex Hernias: Repairing hernias once considered inoperable.
Sleeve Gastrectomy for Gastroparesis: Novel use of weight loss surgery to cure debilitating effect of diabetes.
New Faculty: New Faculty appointments in 2010 and 2011 at Columbia University College of Physicians and Surgeons Department of Surgery.