The region's best lung doctors are now nearby. Pulmonologists and Thoracic Surgeons from Columbia University are here to help you or your family with any lung, chest, or breathing issue, no matter how common or complex.
Our team sees patients for all pulmonary and esophageal diseases, including lung cancer, esophageal cancer, and reflux. We have special expertise in complex lung conditions like interstitial lung disease (ILD) and pulmonary fibrosis, and we also offer lung cancer screenings and lung transplant evaluations. We are proud to bring our collaborative approach, vast experience, and outstanding outcomes right to your neighborhood.
Our experts in lung, chest, and esophageal care are available every Tuesday at two convenient locations: Glen Rock, NJ and Englewood, NJ.
For appointments, please call (212) 305-3408, or complete our online appointment request form and our office will follow up with you soon.
Our Services
It's never been easier for New Jersey residents to receive world-class care from the specialists at New York's top hospital. Treatments include:
General care for lung, chest, and pulmonary conditions
Pulmonary fibrosis treatments
Lung cancer screening
Lung cancer treatments

Navigational bronchoscopy and endobronchial ultrasound (EBUS)
Targeted Therapies
Immunotherapy

Esophageal/reflux disease treatments, including
Interstitial lung disease treatments
Sarcoidosis treatments (We are a designated Center of Excellence by WASOG)
Lung transplant evaluation
Pectus excavatum and chest wall to wall deformities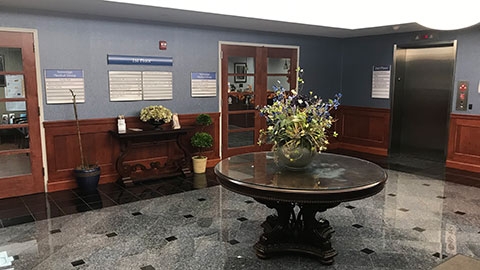 Highlights
Care Through the Columbia Network
If you need advanced care, surgery or transplant, our team will help coordinate with all of our highly-specialized care centers and programs. You will have the resources of one of the country's highest-ranking hospital systems behind you.
Columbia Virtual Visits
All of our specialists also offer telehealth appointments through virtual visits, so you can see your doctor from the comfort of your own home. You'll receive the same quality care you've come to expect from an in-person visit, without having to come into the office. All you need is a smartphone or computer and an internet connection.
Our Team

Bryan P. Stanifer, MD
Thoracic Surgeon | Site Director
 

Joseph Grizzanti, DO
Pulmonologist | Site Director
 

Joshua R. Sonett, MD
Thoracic Surgeon | Chief of General Thoracic Surgery
 

Lyall A. Gorenstien, MD
Thoracic Surgeon
 

Harpreet S Grewal, MD
Transplant Pulmonologist
Our Location
85 Harristown Road, #101
Glen Rock, NJ 07452
Our thoracic surgeons also see patients in Englewood, New Jersey as well. Our Englewood office is located at:
ColumbiaDoctors Englewood
25 Rockwood Place
Englewood, NJ 07631
Make an appointment
The Columbia Lung and Esophageal Center of New Jersey is open and taking appointments. We accept most major insurance plans and can verify your plan when you call to make your appointment.
For all appointments, please call (212) 305-3408.
Or complete our online appointment request form and our office will follow up with you soon.