Who We Treat  |  Highlights  |  Team  |  Location  |  Appointments
Pelvic floor disorders affect the lives of over 28 million Americans, yet relatively few receive adequate treatment for these conditions. Our program offers care to resolve symptoms and restore quality of life for patients with pelvic floor issues. 
Our center is unique, offering a comprehensive, multidisciplinary program to diagnose and treat pelvic floor issues with both nonsurgical and surgical approaches. 
We're proud to be part of New York's #1 hospital and part of one of the world's top ranked programs according to U.S. News & World Report.
Our surgeons regularly appear on multiple "Top Doctors" lists for their outstanding results even with some of the most complex cases.
To make an appointment with our Pelvic Floor Program, call (212) 342-1155 or complete our online appointment request form and our office will follow up with you soon.
---
Who We Treat
Pelvic floor disorders include problems that affect the muscles, ligaments, connective tissues and nerves that support the bladder, rectum, and pelvic organs (including the uterus and vagina in women). It is estimated that about a quarter of adult women may experience pelvic floor disorders, but pelvic floor disorders affect both women and men. 
Functional and Pelvic Floor Disorder Conditions We Cover
Fecal incontinence
Pelvic organ prolapse (bulging of a pelvic organ), including internal or external rectal prolapse
Pelvic floor dysfunction (pelvic floor muscles are either too tight or too weak)
Rectocele (bulging of the front wall of the rectum into the back wall of the vagina)
Obstructive defecation (difficulty or inability to evacuate stool)
Constipation
Levator spasm syndrome (spasm of a muscle near the anus causing sporadic pain)
Complications after previous procedures
Services We Offer
Our program has both non-surgical and surgical treatments to heal pelvic floor disorders. Non-surgical therapies are effective in the majority of patients with other pelvic floor disorders. Only if non-surgical options fail does the team then consider surgical treatment.
Nonsurgical Treatments
Biofeedback: Biofeedback is a non-invasive, painless, and highly effective method of using visual signals on a computer monitor to train the brain to consciously relax and contract the pelvic muscles. The signals come from a tiny electronic probe placed in the anus or vagina. The program has a dedicated biofeedback expert, who works closely with many patients in the program and is able to help over half of patients (60-80%) to resolve their problems in just six sessions of biofeedback.
Botulinum toxin (Botox) injections: For ongoing bladder continence issues and colorectal issues such as anal fissure, Botox injections may be suggested. Botox has been found to calm nerves, helping to block signals that trigger incontinence or similar issues.
Lifestyle and Behavioral Changes: Losing weight, changing diet, limiting drinks and reducing stress can help. Patients can also use strategies to avoid pushing or straining when urinating or having a bowel movement
Medication: Medications to bulk up the stool have been shown to help.
Pelvic Floor Physical Therapy: Physical therapies can assist in movements that can relax and coordinate the movement of pelvic floor muscles. Therapists can also teach patients bladder training and how to perform Kegel exercises that strengthen muscles.
Surgical Treatments
The surgeons in our program use both non-invasive and robotic surgical therapies.
Minimally Invasive Colorectal Surgery: This includes laparoscopic and robotic options. In robotic surgery, the surgeon controls a machine that makes precise, minimally invasive incisions. Use of the surgical robot in pelvic surgery helps with ease of performing the surgery, flexibility, and access. It gives excellent magnification and a stable view because the camera is not hand-held as in other laparoscopic surgeries. The robotic instrumentation gives surgeons more degrees of freedom than straight instruments, which allows them to target an area more precisely. Almost all the surgeons in the program use robotic techniques routinely in their daily surgical practice.
Ventral Mesh Rectopexy. This surgical procedure restores the rectum to its regular position using the insertion of ventral mesh to repair rectal prolapse.
Sacral Nerve Stimulation (SNS): SNS is an extremely effective method of retraining the brain to feel the anal area. The first step in SNS is to surgically place tiny electrodes in the tissue around the anus. This is performed in the operating room. Once in place, the electrodes stimulate the nerves that enervate the muscles in the anus. SNS helps patients to better feel the sensation of the anal muscles when they contract, and it rejuvenates the action of the nerves on the muscles so that the action of subconscious muscles becomes more active. The success rate in helping patients regain continence is very high, curing approximately 80% of patients of fecal incontinence. 
---
Highlights of Our Pelvic Floor Program
As part of our patient-centered approach to healthcare, we have many qualities that can bring you the best possible experience diagnosing and treating pelvic floor disorders. With our program, you can expect:
Convenience
We offer a one-stop clinic to facilitate and complete all labs, imaging, procedures, and referrals in a single appointment, and phone consults to go over previous results and evaluation for those interested in a second opinion. The Pelvic Floor Program includes the full range of services to properly evaluate and treat patients in-house. We also offer virtual consults.
Teamwork
Because all testing, evaluation, and treatment is done by a unified team, our specialists collaborate together and communicate easily, which improves the quality of care in comparison to settings where patients must visit separate specialists for each test or consultation.
Innovation
As part of an academic medical center, we lead our field in developing new and better treatment options. Our surgeons are often able to maintain or restore continence when other centers are unable to provide such options.
---
Our Team
Colorectal Surgeons
Our surgeons have earned national and international recognition for their expertise in minimally invasive and laparoscopic surgery, and routinely train other surgeons across the country. Our overall surgical outcomes are highly favorable compared to national averages.

P. Ravi Kiran, MD | Chief and Program Director, Division of Colorectal Surgery

James M. Church, MD | Director of Research, Section Head of Hereditary Cancer and Familial Polyposis, Division of Colorectal Surgery
 

Debbie Bakes, MD | Director of Regional Practice Operations
book an appointment online »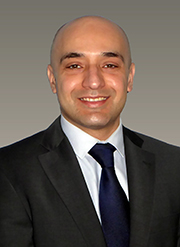 Usama Ahmed Ali, MD

Marco Bertucci Zoccali, MD | book an appointment online »

Beatrice Dionigi, MD | book an appointment online »

Joseph Riad, MD | book an appointment online »

David Schwartzberg, MD | book an appointment online »
Gastroenterologists

Bo Shen, MD
Director, IBD Center and Vice Chair for Innovation in Medicine and Surgery
Gastroenterologist

Le-Chu Su, MD, PhD
Gastroenterologist
Nurse Practitioners
Anna J. Varghese, MSN, APRN, FNP-C, CNOR
Gerthy Michel, MSN, APRN, FNP-BC
Louella Escoto-Ortaliz, MS, FNP-BC, NP-C, CNOR
Our Locations
Wherever you are, our team can help. Our program provides outstanding pelvic floor care in a variety of locations. For added convenience, all of our providers are also available for virtual visits in the comfort of your own home.
Manhattan
161 Fort Washington Avenue, 8th Floor
New York, NY 10032-3784
Providers at this facility:
P. Ravi Kiran, MD, Debbie Bakes, MD, James M. Church, MD, Beatrice Dionigi, MD, Benjamin Kuritzkes, MD, Steven A. Lee-Kong, MD, Bo Shen, MD, Le-Chu Su, MD, PhD, Marco Zoccali, MD, Louella Escoto-Ortaliz, NP, Jeanne de Korte, NP, Gerthy Michel, NP, Anna Varghese, NP
ColumbiaDoctors Upper East Side
12 East 86th Street, Suite #1
New York, NY 10028 
Providers at this facility:
Le-Chu Su, MD, PhD, Marco Zoccali, MD
New Jersey
ColumbiaDoctors Englewood
500 Grand Ave, Suite 101
Englewood, NJ 07631
Providers at this facility:
P. Ravi Kiran, MD, Beatrice Dionigi, MD, Benjamin Kuritzkes, MD, Marco Zoccali, MD, Jeanne de Korte, NP, Gerthy Michel, NP, Anna Varghese, NP
---
Make an Appointment
The Pelvic Floor Program is open and taking appointments. We accept most major insurance plans and can verify your plan when you call to make your appointment.
For all appointments, please call (212) 342-1155, or complete our online appointment request form and our office will follow up with you soon.
---
Resources
Planning & Preparing
Related